Oak Tree – Carshalton Beeches
Situated within the grounds of Carshalton Beeches Baptist Church, we are an Ofsted Outstanding (inspected September 2023) pre-school nursery within walking distance of Carshalton Beeches Station and a short drive from Carshalton and Wallington. We care for children from 2 years of age for 38 weeks of the year, and we match our term dates with Barrow Hedges Primary School in order to support parents with older children there.
Our Carshalton Beeches setting is open Monday to Friday with an 08:00 start time, and a choice of 12:00 (Mon-Fri) or 15:00 (Mon-Thu) finish time.
We work with Sutton council to offer Universal Funded Childcare for 2-4 year olds, and Extended Funded Childcare for 3-4 year olds.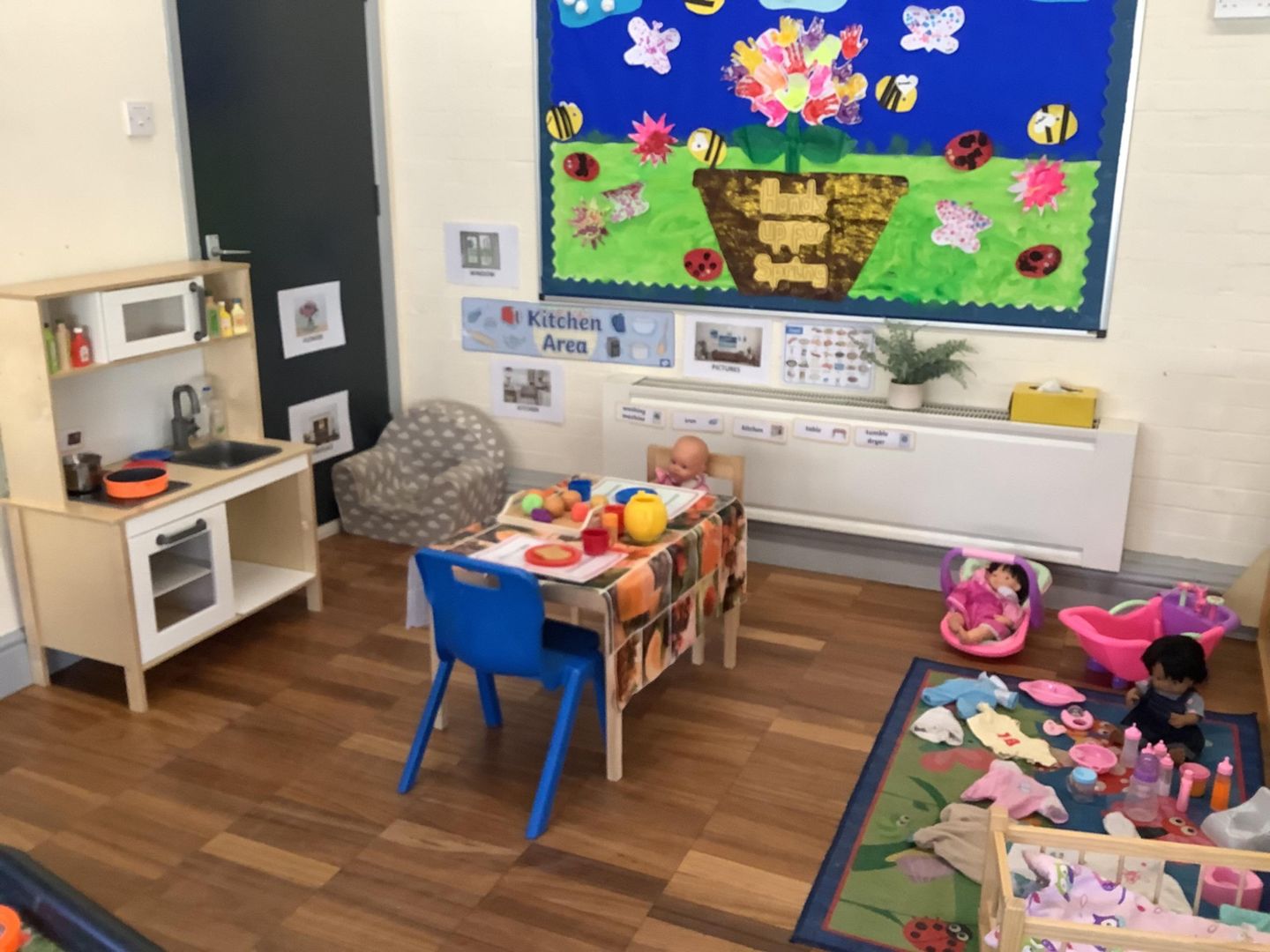 Staff create a purposeful, enticing and safe place for children to play and learn. As a result, children arrive at this pre-school with smiling faces and are eager to enter the setting. Children have superb manners because staff have a highly consistent approach to managing their behaviour.
The Toddler Room is bright, warm and welcoming with large windows that allow natural sun-light into the room all day.
The Toddler Room's internal layout provides the best possible learning environment for our little children with low tables, shelving, window sills and play equipment clearly labelled at the children's height to encourage independent, spontaneous play.
Each toddler is unique and very special. We plan a curriculum based on each child's individual needs and interests, challenging and stimulating the minds of our little learners.
We follow the Early Years Foundation Stage (EYFS) and ensure that each day is planned as we feel a routine helps to give the children a sense of security.
As well as planned activities, we also ensure we leave enough time for spontaneous play and exploration.
We have lots of special friends who come into the nursery to provide extra learning experiences for our toddlers, including yoga, tennis, singing and multi-sports.
Staff implement the broad and knowledge-based curriculum consistently across the provision. They use discussion with children to develop their speaking and listening skills to great effect.
Our Pre-school room
Pre-school is the biggest room in the nursery and has lots of large windows allowing natural sun-light to fill the room all day.
Lots of things happen in Pre-School and it is always busy with our buzzing explorers. Whilst children are having fun a secret curriculum is being planned behind the scenes to ensure all elements of the Early Years Foundation Stage (EYFS) are met and children's individual interests are at the heart of our planning.
There are endless opportunities to learn at every turn and all areas of learning are reinforced through 'purposeful play'.
Every activity we do with the children is to prepare them for their next step… big school.
We have very strong links with schools in the surrounding area and working closely with the parents throughout the year, we will advise on schools to best suit your child.
We have lots of special friends who come into the nursery to provide extra learning experiences, including yoga, tennis, singing and multi-sports.
A daily routine gives children a sense of security and with Pre-Schoolers an increased sense of responsibility and independence.
Outdoor learning
Our large, enclosed outdoor area provides the children with a huge opportunity to explore, get muddy, go on adventures and flourish to their full potential.
The outdoor garden area includes a mud kitchen, home corner, outdoor creative area, a quiet reading area and an imaginative corner.
Nutrition
It is very important for all of our children to have full tummies, packed with delicious nutritional food providing the children with the energy they need to have happy, healthy bodies and minds.
We provide a selection of cereals, pastries and toast (with drink options) for all children in the morning.
For children staying the full day, packed lunches must be provided as all children sit down together to eat. Meal times are very important at Oak Tree as they provide an invaluable social experience and a real sense of belonging through conversations with friends and adults.
Each member of staff sits and eats with a small group of children, demonstrating polite manners and safe ways of using cutlery.
Members of staff are on hand to gently help and encourage children to eat and support our older children to set the table for themselves and their friends and serve food to one another.
We cater for all children's dietary requirements, whether medical, cultural, ethical or simply based on your child's personal preferences.​
Communication with you
Communication is key in any relationship, and none more so than the relationship you have with your child's nursery school.
At Oak Tree Pre-school Nursery, we use an app called 'Famly' which allows our nursery staff to share photos, videos and instant messages with parents. All information is visible in real time which means that you can see important events as they happen.
You can also contribute to your child's learning and development record by posting photographs and accounts of what your child does outside of nursery.
And parents are able to use Famly anywhere across all devices, including computer, tablets and smartphones, free of charge.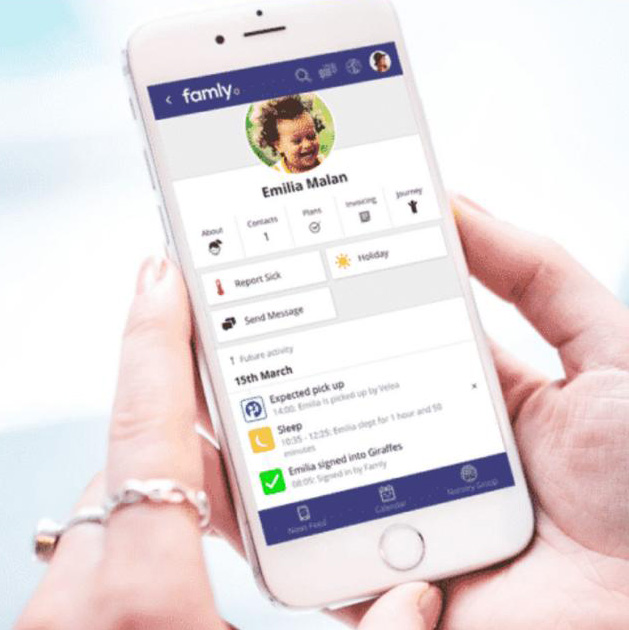 Partnerships with parents are extremely successful. This is because staff take the greatest care to welcome, value and support every parent. Staff suggest ideas for what parents can do to further support their children's learning at home. Parents are unanimous in their praise of the exceptional levels of care and attention their children receive.
Fees and Funding
Our fees calculator for Carshalton Beeches is coming soon. Our fee structure is also available to download.
FAQs
What age do you take children from? We take children from 2 years old.
What days are you open? We are open Monday to Thursday 08:00 – 15:00, and Friday 08:00 – 12:00.
Do you offer term-time only care? Yes, we are a term-time only nursery and we match our term dates closely with the local school, Barrow Hedges Primary School.
What sessions are available? We offer 08:00 to 12:00 (Morning) or 08:00 to 15:00 (Full Day) sessions.
What is the minimum number of sessions required? A minimum of two sessions per week is required.
How can I secure a place? The first thing to do is to complete our enquiry form. One of our team members will then be in touch to discuss your requirements.
Is a registration fee required? Yes, a non-refundable registration fee of £50.00 is required to secure your place on our waiting list.
Do I have to pay a deposit? No, deposits are not required for our Carshalton Beeches setting.
How are your fees calculated and when are they due? We charge for the sessions booked each month therefore the monthly fees will vary depending upon the term dates. Fees are due monthly on the first of each month, in advance for each calendar month of childcare.
Do you offer refunds or discounts for sickness or holidays? No refunds or discounts will be given for sickness or holidays.
Do you offer funded places? Yes, we offer the 15 hours universal funding for 2 year olds and 3-4 year olds, and the 30 hour extended funding for 3-4 year olds. Funding is available from the term after a child turns 3 years of age – terms begin on 1st April (Summer term), 1st September (Autumn), and 1st January (Spring) each year.
How does a funded place work? A funded place is not a free place. Funding is intended to cover the delivery of childcare only.  It does not cover the cost of meals (including food and preparation), consumables, outings, and extra activities. This supplement is charged for each funded hour for 3-4 year olds and is currently £2.39 per hour.